Controversial auto dealer Ikechukwu Ogbonna, a.k.a. IVD, reveals he's finally ready to speak the truth on matters concerning his late wife, Bimbo.
Recall that the businessman lost his wife in October 2022 following reports of alleged domestic violence.
IVD, who hasn't spoken out about all this, has said that he's finally ready to tell his own side of the story.
He discussed how some people have claimed he can't speak good English and explained why he hasn't told the truth, while others claim it's because he's shy.
IVD said that people would be hearing his voice soon; he would gladly tell it all to his fans.
"Some said I couldn't speak good English; I am not deducted because I am always shy to speak, but when I speak, you will discover that I am very learned and that I can actually speak and brag more than anyone." I only do this because social media forces me to see the end result. "If guys really want to hear the truth and want to hear my voice, I will gladly do this for my fans, love you all. No disrespect to IVD, but I am the King of the Street," he wrote.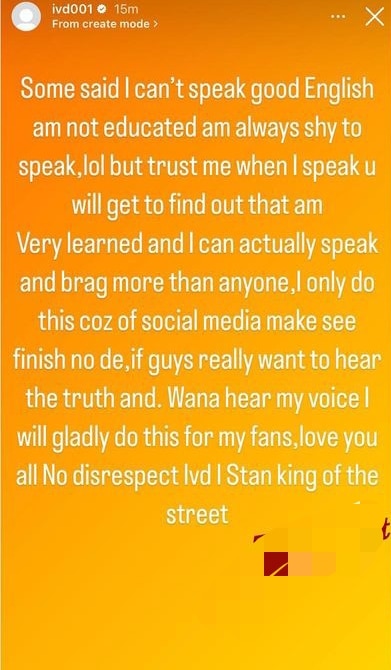 ALSO, READ