The Premier League has been quite a ride for Arsenal, with three league titles won since 1992, including the Invincibles campaign in 2003–04.
Some of the greatest talents in English football have graced the fields at Highbury and the Emirates.
Yet, inevitably, that dominance could not last, and not every Gunner will be remembered as a favorite.
We take a look at 10 players you may have forgotten ever represented the North London club.
John Hartson (1995–97)
John Hartson played his best football for Celtic and Wales, but only after Arsenal made him the most expensive British teenager of all time.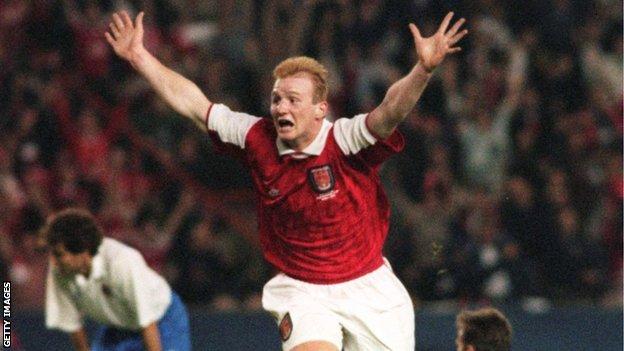 George Graham spotted potential in the forward, spending £2.5 million to sign him from Luton, and he scored 14 league goals before being sold to West Ham two years later.
Matthew Upson (1997-2003)
Matthew Upson was signed by Arsene Wenger from Luton Town as a teenager.
The center-back featured 34 times in the league, picking up a winners' medal in 2002, and went on to represent Birmingham and West Ham, as well as scoring for England at the 2010 World Cup.
Julio Baptista (2006–07)
Julio Baptista signed for Arsenal in a rare loan swap deal, with Jose Antonio Reyes going the other way to Real Madrid.
The Brazil international generally failed to live up to the fanfare, netting three goals in 24 league games but did notch four in a 6-3 defeat of Liverpool in the EFL Cup.
Francis Jeffers (2001–2004)
Arsenal spent £8 million on highly-rated poacher Francis Jeffers after he scored 20 goals for Everton before turning 21.
Injuries plagued his Highbury career, though, and he never recaptured the form he showed as a youngster.
Carlos Vela (2005-12)
Football Manager players will remember Carlos Vela as one of the game's brightest young things.
Reality did not live up to potential and he went on to star for Los Angeles FC, for whom he is the Major League Soccer outfit's all time top goalscorer.
Kim Kallstrom (2014)
Kim Kallstrom takes his place in the Arsenal Hall of Fame for the wrong reasons.
For many, the midfielder is the epitome of the decline of the Wenger era after the Gunners made him their only signing of the 2014 January transfer window despite the fact he had a broken back.
Serge Gnabry (2011–16)
Werder Bremen took advantage of Serge Gnabry's lack of playing time to steal him from the Emirates in 2016.
Seven years on, the German has established himself as one of the world's best wingers at Bayern Munich.
Emiliano Martinez (2012–20)
Emiliano Martinez is another example of what the Gunners could have had.
The Argentine belonged to the club for eight years but only made 38 appearances before going on to star for Aston Villa, win the World Cup, and win the Yashin Trophy for the world's best goalkeeper in 2023.
Stephan Lichtsteiner (2018–19)
Arriving at Arsenal as one of the best right-backs of the 2010s, Stephan Lichtsteiner looked like a smart pick-up.
Instead, the 34-year-old never lived up to the billing and only managed one more professional season before retiring.
Denis Suarez (2019)
A Spanish playmaker with 71 Barcelona appearances, snapping up Denis Suarez on loan seemed like a coup.