The rape and sexual assault allegations on male celebrities seem to be never-ending in the wake of the #SayNoToRape stories that's been rocking social media for a while now, popular Actor Uti Nwachukwu was not left out.
As rape victims begin to speak out on the ordeals they faced with a forceful male individual, a handful of male celebrities are not left out in the stories. While it may be hard for some of these rape victims to come out to call out celebrities who forcefully had their way with them, some have found the courage to do so and social media is helping amplify their voices.
A lady identified as Kambili Korie on Twitter has in a series of tweets shared her experience with former Big Brother Africa winner, Uti Nwachukwu, three years back.
While claiming that the now TV presenter raped her in the year 2017, she went on to allege that he's bisexual and treats males better even though he's into females more.
Read her tweets below ;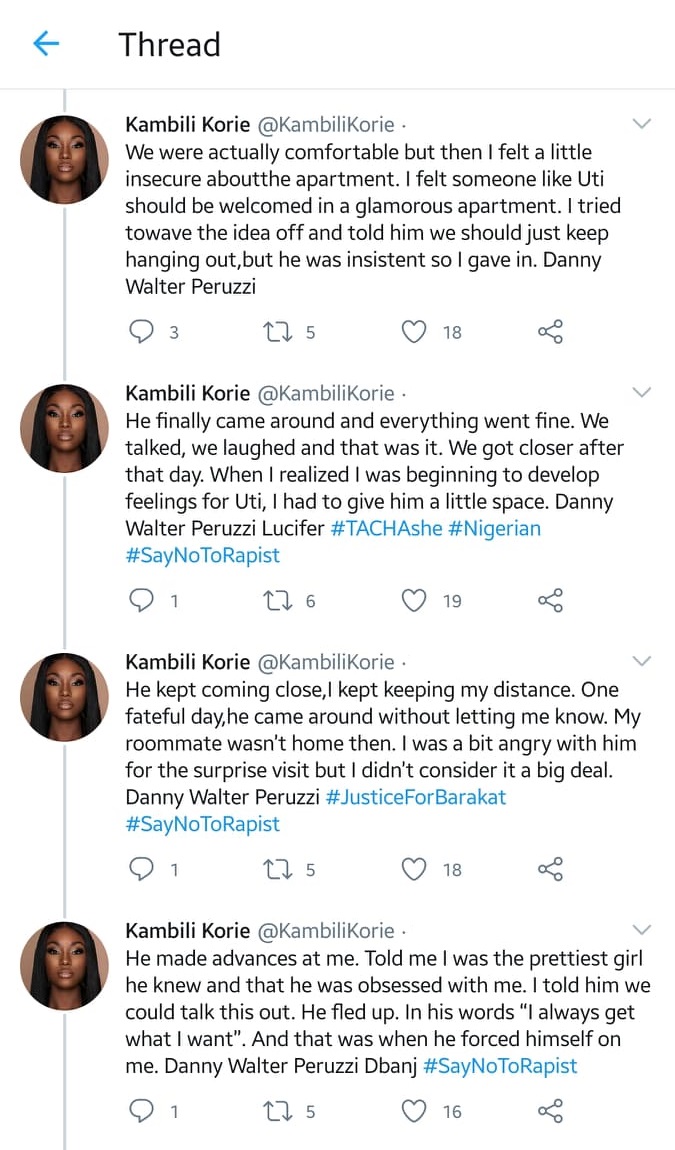 Kambili Korie went on to reveal that Uti never messaged her with his real number which is why she never got enough evidence and he threaded carefully with his actions. He shared a screenshot of an alleged chat with him where he admitted to raping her and saying he did it as a man and not because he doesn't love her.
Further investigation into her claims had us stumbling onto a tweet of the TV presenter in the same year and month that Kambili Korie claims to have been raped by him where he said "He'll be forceful if he loves you"
As at the time of filing this report, Uti is yet to refute Kambili's claims.